Wayback Wednesday is a weekly series featuring historical figures with a record of military service and a connection to the arts.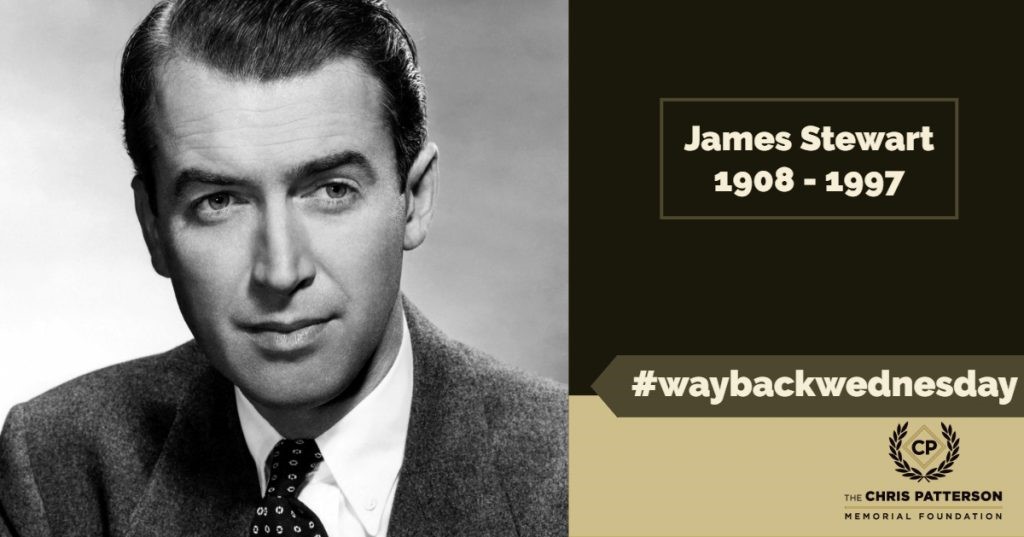 This week features James Stewart actor and WWII Air Force commander.
James (Jimmy) Maitland Stewart was born May 20, 1908 in Indiana, Pennsylvania to Scottish Presbyterian parents. Stewart's father did not approve of his sons early interests in the arts and the military, discouraging his sons pursuit of music lessons and insisting that he attend Princeton rather than the Naval Academy after graduating from high school. Away from his family, however, Stewart's interests had the chance to flourish. At Princeton, he joined the University Players acting troupe and met and befriended former club member Henry Fonda. With Fonda's support (the two would be roommates in New York City for several years while they launched their acting careers) Stewart began a career as an actor after graduating in 1932. At first the plays in which he appeared gained little traction, but by 1934 he was a rising star on Broadway. With the help of Fonda, who had signed a lucrative Hollywood contract, Stewart was scouted by MGM, took a screen test, and headed west to appear on the big screen in April 1935.
Between 1935 and 1942, Stewart appeared in an astounding 26 feature films. This included what would prove to be his only Academy Award for Best Actor, for his appearance in 1940's The Philadelphia Story opposite Katharine Hepburn. Stewart's splash in Hollywood was also a personal one, as he was universally described as kind, soft spoken, and a true professional in his craft. The likeable and mild mannered characters Stewart is often remembered for, such as George Bailey in the 1949 Frank Capra flick It's a Wonderful Life, were not too far from the man himself. With conflict spreading across Europe, however, James Stewart was determined to be more like George's military hero brother, Harry.
James Stewart's family had deep military roots; the family tree contained veterans of the American Revolution, both of Stewart's grandfather's had fought in the Civil War, and Stewart's father had fought in the Spanish-American War and WWI. Stewart's quest to serve began before the US entered WWII, with his attempts to enlist stretching from October 1940 to May 1941. The military was not terribly keen on having a celebrity aboard, particularly as war time exigencies were not yet in effect. Stewart had an ace up his sleeve, however. In 1935 he was certified as a private pilot, and in 1938 received his certification as a commercial flyer. He frequently flew cross country, following the rail lines, to visit his family back east, and even participated in a 1939 cross-country flying race as a co-pilot. At a time when the US military was in desperate need of trained pilots, the knowledge of which was part of the reason he had volunteered, Stewart was highly proficient. Initially facing rejection due to failing to meet weight requirements (he did not mass enough) Stewart was able to work with MGM trainer Don Loomis to bulk up, and was finally inducted into the Air Corps on March 22nd, 1941. As he had beat the rush to enlist, Stewart was the 'first celebrity in uniform' following Pearl Harbor.
The US entry into WWII removed obstacles to Stewart's progress in the military. At 33 he was 6 years too old for the Aviation Cadet training that was the usual path to becoming an air officer. Aiming to recruit and train 100,000 young men after the outbreak of war, however, the rust was cleared away from the bureaucracy of the United States Army Air Corps and experienced flyers like James Stewart were slotted into positions of authority to steer the new recruits that were soon pouring in. Stewart was commissioned as a second lieutenant on January 2nd, 1942. Stewart's immediate fear was that his celebrity and experience would keep him stateside working as a trainer and recruiter. And his early experience in the war seemed to bear this out in full. During 1942 and the first part of 1943, in addition to assisting (and sometimes starring in) recruitment and propaganda films, Stewart struggled to get into the fight. After three months of training on the new B-17 Flying Fortress, he was transferred to a training unit in Boise, Idaho rather than to a combat unit.
By July 1943, Stewart had risen to the rank of Captain and been qualified as a squadron commander, and rumors had begun to circulate that he was to be taken off flight duty altogether and relegated to selling bonds and starring in promotional, training, and recruiting films. At 35 and despairing of ever getting anywhere near his country's enemies, Stewart sought the help of his 30 year old commander, Lt. Col. Walter E. Arnold. Arnold, who, to his credit, sympathized with Stewart and helped clear the way for him with a recommendation to the newly formed 445th Bomb Group of the 703rd Bombardment group. He was assigned to the 445th in August 1943, and in three weeks' time was made its commander. Flying B-24 Liberator's, Stewart and his squadron flew to England, and after three (3) weeks of training (during which Stewart made a point of flying with each of the combat crews in his squadron) Stewart had his wish. He flew his first combat mission on December 13th, 1943.
During his time with 445th, he would fly 12 combat missions, often deep behind enemy lines. On March 30th, 1944 Stewart was reassigned to the 453rd Bombardment Group as chief operations officer, after the 453rd had lost his predecessor (and their commanding officer) on missions. Stewart was assigned to the 453rd 'for the duration' and was thus no longer required to fly a certain number of missions to complete his service. He continued to assign himself for flight duty, however, initially taking charge of the lead plane on several raids deep into Germany to inspire his new unit. While official records credit him with 20 total sorties with the 445th and 453rd, Stewart had a tendency that would come into full flower following his July 1st, 1944 promotion to Lieutenant Colonel; flying uncredited. Reassigned following his latest promotion as executive officer to Brigadier General Edward Timberlake of the 2nd Bomb Wing, Stewart took on a growing number of uncredited missions with both former and new squadrons. By the end of the war, he was a full colonel in charge of the 2nd Bomb Wing.
Following the war, Stewart returned home and continued his illustrious acting career. In total between 1935 and 1991, he appeared in no fewer than 92 films, television series, and shorts. He won just about all of the highest honors it was possible to win as an actor, and in 1999 was rated by the American Film Institute as the third greatest screen actor in film history. He also continued his service as part of the Army Air Force Reserve until retiring in 1963, rising to the rank of Brigadier General and keeping current his certification on the Convair B-36 Peacemaker, the B-47 Stratojet, and the B-52 Stratofortress during his stints on active duty. During WWII, he received the Distinguished Flying Cross twice, the French Croix de Guerre, and the Air Medal with three oak leaf clusters. While happy to help with promotional materials, Stewart always steadfastly shunned any publicizing of the missions he participated in.
The aforementioned It's a Wonderful Life offers, in some ways, a picture of the dual nature of Stewart's time during the second world war. His service was very much a combination both of George Bailey's hard work rallying the home front and brother Harry's airborne heroics. To have played both roles in real life is a fitting summary of James Stewart's contributions to both the silver screen and the United States Air Force.