The Chris Patterson Memorial Foundation is excited to share that our Social Media Director, Rachel Bailey has recently been hired by another non-profit, in the position of Administrator. The Waupaca Community Arts Hub in Wisconsin provides music lessons and art programs for their town and the surrounding area, primarily focused on youth experiences in the Arts.
Bailey has been managing our social media for the past 5 years and will continue in that role. Her knowledge of online media and promotion will surely make her an asset in her new job, as she has been for our organization. Added to that, her passion for the Arts and Arts education for youth makes her an ideal spokeswoman for both of these non-profits. We wish her the best in her new job.
Follow us on Facebook and Instagram to see everything Rachel posts for us!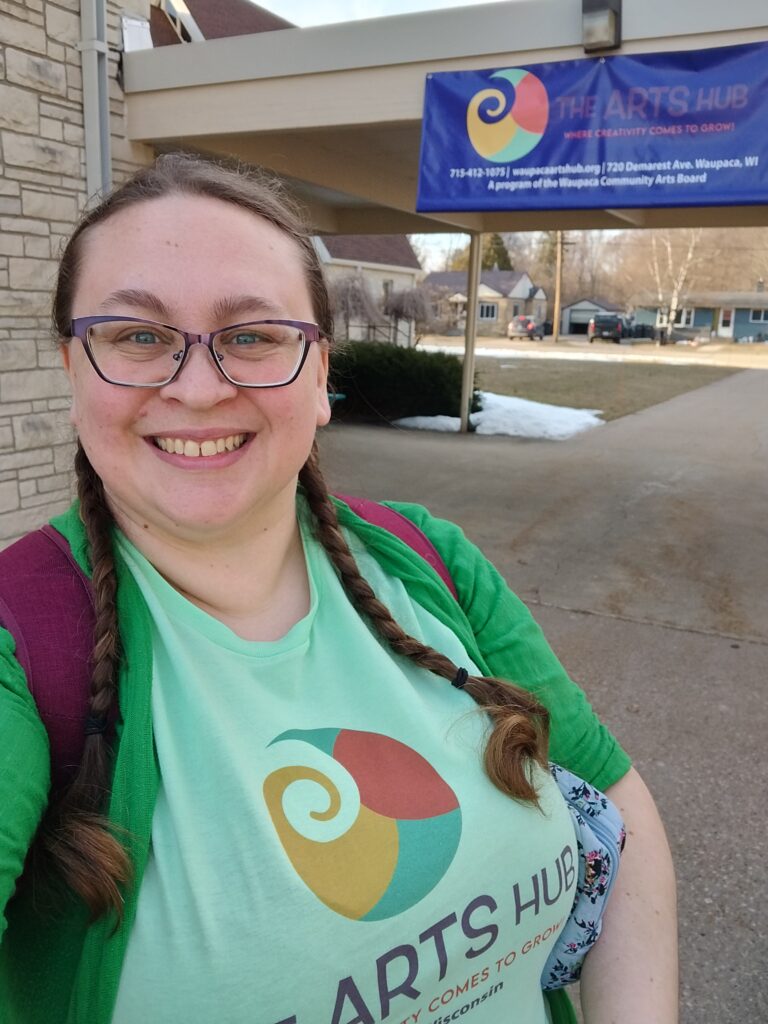 Recently hired as the Waupaca Community Arts Hub's new administrator, Rachel Bailey will be the new face all students and their parents will greet when they arrive for art and cooking classes, or for music lessons. Bailey will handle the day-to-day operations at the Arts Hub, as well as marketing and support tasks.

Bailey also is the social media director for another non-profit, The Chris Patterson Memorial Foundation, and has a long history of participating in the Fine Arts as a French Horn player for her high school and the University of Wisconsin-La Crosse marching bands. "Fine Arts education had a large impact on who I grew to be as an adult. The Arts wing of my high school definitely was where you could find me partaking in most everything that was offered," Bailey said.

Bailey said that she has experienced first-hand how being involved in the Arts gives youth outlets for self-expression, creates a sense of community for them, and teaches lessons that reinforce those learned within the academic classroom. "I am excited to be joining the Arts Hub and I'm looking forward to helping the Arts Hub grow and move forward by strengthening community partnerships that help us reach even more members of the Waupaca community, especially our youth."

After graduating with a degree in archaeology, Rachel married her college sweetheart, and Waupaca native, Eric Bailey. They relocated from La Crosse to her hometown area of Lake County, IL, where she worked in the museum education field developing and teaching youth programs.

Bailey began working for the CPMF when it was created to honor her cousin, Christopher Patterson after he was killed while serving with the Indiana National Guard in Afghanistan. The Foundation seeks to honor his legacy by supporting the arts, particularly through the local schools near where Chris grew up, where $21,000 in cash awards have been presented to local high school seniors who participated in the fine arts.

During her time in Illinois, Bailey and her husband had three sons and dreamed of returning to Wisconsin. They were able to make that happen early in the fall when Eric was hired as the Director of the Waupaca Public Library. Bailey said that her family is looking forward to starting this new chapter of their lives here in Eric's hometown of Waupaca, where they are living in his childhood home. "One of our sons has already started in his father's footsteps by playing hockey with WAYHA on the same rink that his dad played on from his childhood through his high school years," Bailey said.

"We are so pleased to have someone of Rachel's caliber, skills, and passion helping us grow our programs and make the arts more accessible to everyone in our community," said Arts Hub Chairman Laura Reynolds. A program of the Waupaca Community Arts Board, the Arts Hub is critical to the Arts Board's mission of creating community through the arts, said WCAB President Marci Reynolds. "We look forward to working with Rachel as she helps us make the Arts Hub what we always have dreamed it could be," said Marci Reynolds. "We just love her."

Waupaca Arts Hub Press Release March 2023